Suite 201
Embraced by island greenery and the peaceful sea.
Located on the 2nd floor at the easternmost edge of Hotel Anaga, this perfectly situated corner room has splendid views of Awaji Island. The 3 balconies and spacious window sills offer a superb vantage point of the gentle arc of island green stretching towards Naruto bridge with ships passing below it.
Relaxing on the balcony deck chairs and you will feel the Seto Inland Sea embrace you.
At night relax to your heart's content in the bathroom as you submerge yourself in hot water. The wooden drainboards offer comfort and warmth, as does the sparkling glass shower stall. In the morning awake refreshed as the morning sun rises slowly over the mountain. Enjoy the finest of mornings with a Anaga Breakfast as you gaze out to sea with a glass of champagne .
With 3 balconies and a mini-bar.
Free WiFi.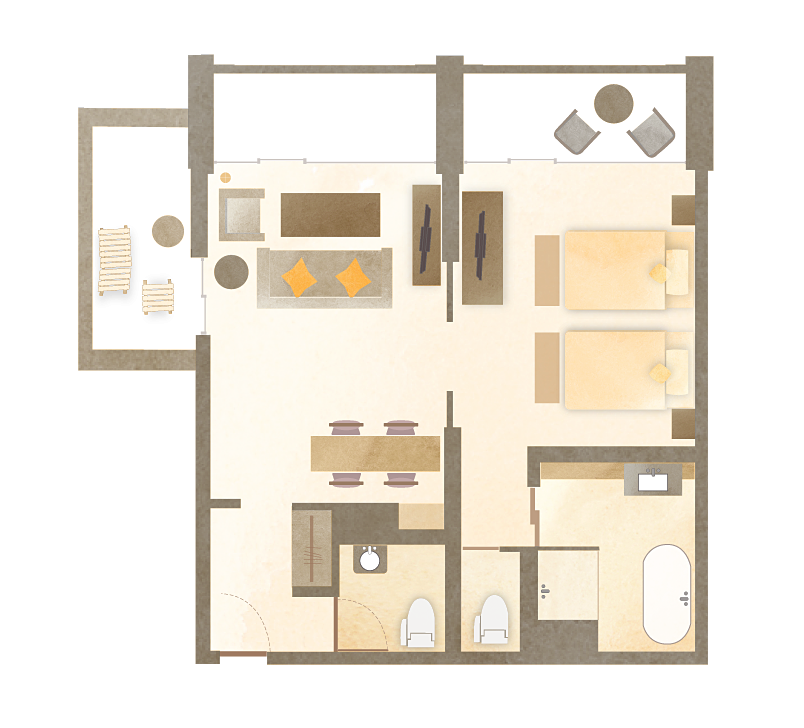 ROOM LAYOUT
Approximate room size 78.4m2