Doggie Villa 314
Spending time with my precious family ~ My second home ~
A luxury twin where you can spend time as a vacation home with your dog while admiring the superb view.
There are long sofas where you can freely enjoy various ways to relax,and the sunlight coming in from the skylight is comfortable.You can spend a relaxing time with your precious family in the space production.
From the spacious dining table, you can enjoy the unique atmosphere of a seaside resort surrounded by trees.
A dog-friendly room where you can enjoy the superb view.

We are particular about the amenities provided in the room so that you can spend time with your dog and people in a "more enjoyable" and "more luxurious" way.
For coffee, we collaborate with Yumeko Tomita of "TOMMY COFFEE STAND", which actively purchases single-origin coffee such as coffee beans from Myanmar as well as typical beans from India and Colombia on Awaji Island.

Island time until breakfast after waking up to the sunlight from the skylight.
You can enjoy the calm time of grinding the carefully selected coffee beans and the scent that spreads in the room.
In addition, for long-term stays, we have arranged the range and pots in the Balmuda series,
A stylish counter where simple cooking can be done and a work space have been newly established so that even a little time can be used effectively.

In addition, we want to make your stay more comfortable not only with your family, but also with your beloved dog, who is an important family member.
We also paid particular attention to the floor materials, and adopted Swedish-born textile floor tiles "Boron".
We have received 15 environmental and health certifications worldwide.
Because it uses materials that are friendly to people and pets and environmentally friendly, It is a "vinyl fabric floor material" that is chosen around the world as an earth-friendly material.

Enjoy an elegant stay in Awaji Island at the luxury twin "Doggy Villa 314" where you can spend time with your dog with peace of mind.
※Mini bar and balcony
※Vila carpeted in antibacterial foot-friendly French made LOBOFLOR carpet.
※All rooms are non-smoking

[ Anaga Doggie Etiquette ]
* Hotel Guests only.
* Please keep you dog on a lead while walking to and fro from the Doggie run and your Villa.
* Please use the foot wash bath before returning to Doggie Villa.
* In case of emergency we will inform you of neighboring veterinarians.
* Please refrain from entering the hotel main building with your dog.

Amenity for dogs
| | | |
| --- | --- | --- |
| Dog bed (small dog) | Indoor cage | Food bowl |
| Blanket for dogs | Egge toy | Dog litter box |
| Pet Pee Sheet | Wet tissues | Anti-odor trash can |
Doggie Run Terms of service [PDF Japanese only]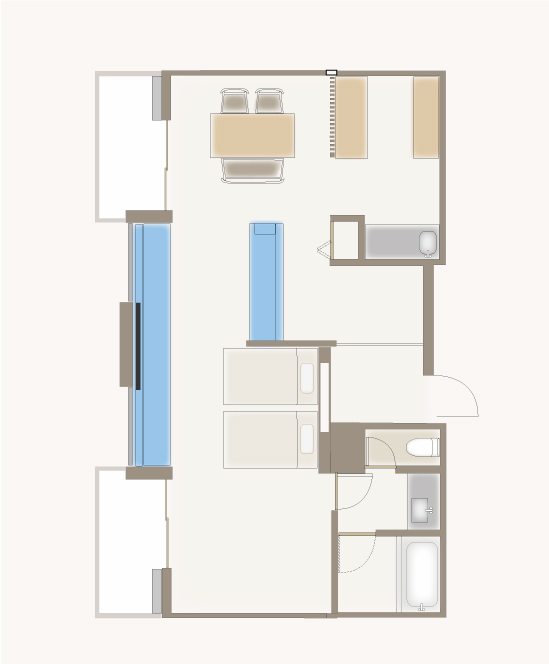 ROOM LAYOUT
Approximate room size 88m2